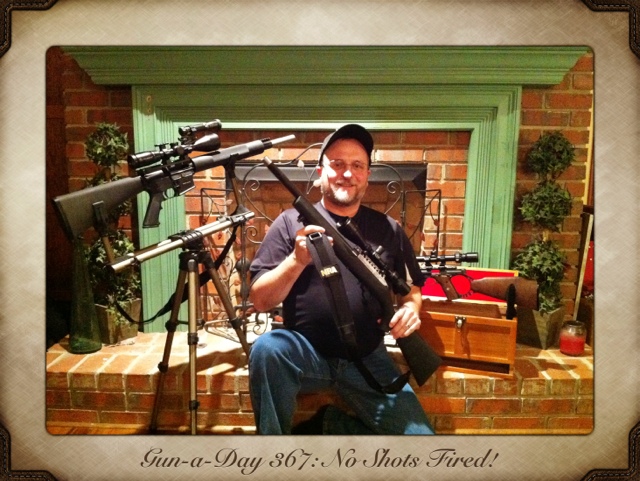 For the first time in a year and a day, I did not pull the trigger of a gun or take aim on a target.
Kinda funny.
Several times, I caught myself evaluating empty boxes and other objects as potential targets and kept realizing that it wasn't necessary to figure out any shooting scenarios anymore. It's very interesting to have met the goal and to not have any sense that I need to go any further with the initial concept of the "one gun a day for a year" plan.
Instead, there was time for some intensive cleaning and maintenance work.
Before the long guns, there were four pistols in need of attention. I laid out– in order of age?– the Iver Johnson break-top .38 S&W (circa 1905), the Iver Johnson break-top Victor 67-S .32 S&W, the Harrington & Richardson Sidekick– model 930– .22LR, and the new-to-me-as-of-yesterday Raven .25acp. I learned a lot about break-top assembly in the process– time very well spent.
Hey, I even took this as an opportunity to finally replace the Hi-Viz fiber optic front sight rod on the Browning Buck Mark Micro Nickel that popped out months ago. Those spare parts turned up while I was looking for AR upper/lower buffers that turned out to be in that rifle's cleaning kit compartment the whole time. Yeah, it'll be good to do some re-organizing and storage streamlining in the the coming year.
Rifle time: the Magnum Research MLR-1722 took Crud King honors (not unexpected). That Eley-primed ammo is super gritty and gunky. The Hogue stock had to come off, and I may still need to take time for a more comprehensive dis-assembly and cleaning process. The Buck Mark Sporter rifle cleaned up more quickly, and the Olympic Arms K8 is a fascination. The best part of cleaning it was remembering where I'd "safely stored" the buffer inserts I bought years ago and finally installing one under the rear assembly pin.
Today's picture includes all three of yesterday's rifles, and not-so-little-but-increasingly-old me. Is it any wonder why I've kept myself out of the pictures? The DeadShot FieldPod is almost as good a cleaning rack as it is fantastic as a portable shooting stand. The other cleaning rack set-up is a kit my brother, YoJimbo got for me this year. Very handy, as his gifts always are.
I had a great time in my year of gunnery, and now I'm interested to see how I can continue a firearms-friendly lifestyle without any "can't miss a day" pressure. As I transition into a less-strict schedule, I want to open up the site– officially– to reader contributions. I've always been interested in what others are doing, and I've always been glad for comment contributions, but I've never formally promoted the idea of "crowd-sourcing" the blog's content. But, why not?
That's why today's title is a question. Are you interested in sharing your target practice or other shooting sports stories and images online here at dailygunner.com? If so, please send me the info, and I'll consider every submission for posts on a daily basis.
Maybe you have a favorite gun– and a favorite story to go with it– that you'd like to take out to the range or the woods and write up a little description of the experience for others to enjoy. You're invited to join in the Gun-a-Day story.
Again, I'm very grateful for the constitutional privilege and responsibility of being an American citizen who chooses to own and operate firearms, and I consider it a blessing of God to have been able to enjoy a year of safety in the process of firing hundreds and hundreds of rounds of all kinds of ammunition through dozens of different guns. Guns are a pleasure; Christ is my Hope.
=== ( + ) ===
While I was able to shoot every day, I obviously ran behind on the "daily" blog posting part of the process, but … I do have pictures and notes on the other days, and I'm looking forward to getting them caught up.